[5 min read]
The concept
The module introduces digital visual and imaging manipulation as tool to express student's vision and creative reinterpretation of the world through digital visual imagery.

This module equips students with conceptual, practical and critical skills and knowledge of digital imagery, and to use Photoshop to produce digitally generated and manipulated images.

Students will develop their knowledge of and skills in digital imaging and manipulation through a series of lectures, demonstrations and hands-on exercises.

They will undergo practical assessments in the form of projects and exercises throughout the semester. Students will then render and submit a culminated final project and/or a body of work (portfolio) to demonstrate their ability to solve communication problems using the appropriate software and hardware as a form of final assessment.
The Mindsets
In any forms of design fundamentals, what is the most important elements is the composition. Composition is the term used to describe the arrangement of the visual elements. We practise composition in daily routine from the way we organize things until the way we see it as essential parts of our life.

When we are developing a digital composition, this routine influence our subconscious brain and reflects our point of views. That's why practicing composition is not just specifically focus in design, but it's more towards our understanding about composition fundamental that we are practising and apply it into our mindsets.
Composition Studies using a Collage Technique
Back to basic. One of the best way to learn and practise composition is by using collage techniques. Gather newspapers, magazines and your old glue stick and you're ready to go. You are probably thinking about a collage you did in kindergarten right now and that is exactly the point.

Below is some of the main steps in developing a collage design:

The use of collages serves different purposes in the design process. A collage can aid in determining the colour palette of the product ideas and concepts. Collages are very suitable to present a particular atmosphere or context that you want to capture in the form of the new design ideas and concepts.
The main reason I'm teaching my students to create a collage work is that to bring back their memory from their childhood/ school, when they were creating collage artworks in art subjects. Besides that, once they are getting familiar again to use their own hands, it will be easy for them to create digital work on computer software.
Below is some of my student's collage work:
Assignment 1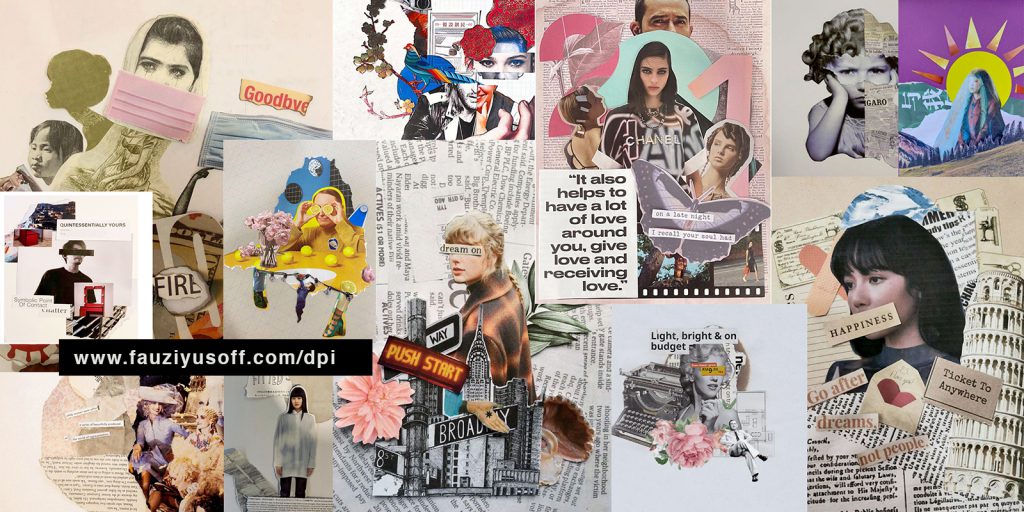 Check out more of my students collage works here
Assignment 2
Poster Design
After the composition studies through collage techniques, most of the students are catching up and understand on how to create a good composition. The next steps, we were exploring typography and conceptual poster design.
#WorldRefugeesDay
In conjunction with #WorldRefugeesDay we took this opportunity to apply the composition and design techniques into a specific concept, Public Service Announcement awareness campaign.
World Refugee Day is an occasion to build empathy and understanding for their plight and to recognize their resilience in rebuilding their lives.
Together we heal, learn & shine. 20.06.2021 World Refugees Day.
To acknowledge this awareness, here's the Top 10 out of 123 from my students' work for Digital Photography & Imaging @ Taylor's University.
#WorldMentalHealthDay
Mental health care for all: let's make it a reality.
In conjunction with the World Mental Health Day 2021 organized by the WHO, we took the opportunity to participate and create awareness for the public to acknowledge on how the issues had been affected everyone during the global pandemic.
TOP 5 Best poster design:

Discover Beauty by Jian Rong

Believe in Yourself by Shamiella

Be in The Moment by Maizatul

We are Together by Fathmath

Countless Sheep by Regina
Below is one of the best student's work, who managed to applied a good conceptual poster by combining all of the learning lessons from this module.
Being in the moment; is being aware of and conscious of what is going on right now. It allows us to completely experience life, which is a positive thing. You can always see back your past but never get too attached to the past. You can always predict the future but don't put your hopes up high about what's going on in the future.
The subject style with the string attached that looks like a cloud or messed up strings was inspired from a drawing like heads in the cloud. We regularly criticize persons who are prone to daydreaming. We accuse them of being unorganized, unfocused, not present, or keeping their heads in the clouds.
Check out the design process here: Maizatul Amirah's blog
Assignment 3
Once we've done with the typographic poster design, we were expanding the still photo images into moving images or better known as Motion Graphics.


For the next step, I've divided this module into two major assignments which is:


01. Self-Titled
A digital collage project in a poster format.
02. The Surrealistic Parallax
An abstract animation in Insta-story format.

Self-Titled project
The learning process
Self-titled is an exploration project for the students to express their own individuality and reflect their personality into a digital art self-expression. The main idea is to build up self-confidence and discover their interest.

Before I assigned this project to my fellow students, I've came out with two sample works, "Exit Home" and "Enter Life"
This artworks is inspired during the restriction of Movement Control Order (MCO) during the Pandemic Covid 19 lockdown. During this time we we're having fully online class from the first week until the end of the semester.
Below is the first video time-lapse for the "Exit Home" online tutorial demo:
"Exit Home" digital collage artwork:

Digital Collage 01: Sample work for Group A
Below is the second video time-lapse for "Enter Life" online tutorial demo:
"Enter Life" digital collage artwork:

Digital Collage 02 – Sample work for Group B
The Concept of Realism & Surrealism
What is Realism?

Takes subject matters of the ordinary and common world which we call "reality." It almost always takes a non-exotic and non-extraordinary subject matter and theme. There is no need to think outside of the box, as that is not "real."

What is Surrealism?

A twist on Realism. It explores the subconscious mind, with subject matters concentrating on dream-images and often aims to distort the ordinary and what we call reality.

Tutorial
The result
The process of Self-Titled project development started from Week 3 until Week 7 (1 month) consist of online guidance, consultation & feedback. Throughout the learning process, most of the students were practising what they've learned and developed their own ideas and technical skills from sketches to digital softwares.
After 14 weeks of online class for the subject Digital Photography & Imaging, here is the TOP 10 selected out of 55 students who've managed to learn from basic fundamental of composition into an advanced layering using Photoshop.
---
Surrealistic Parallax [Final project]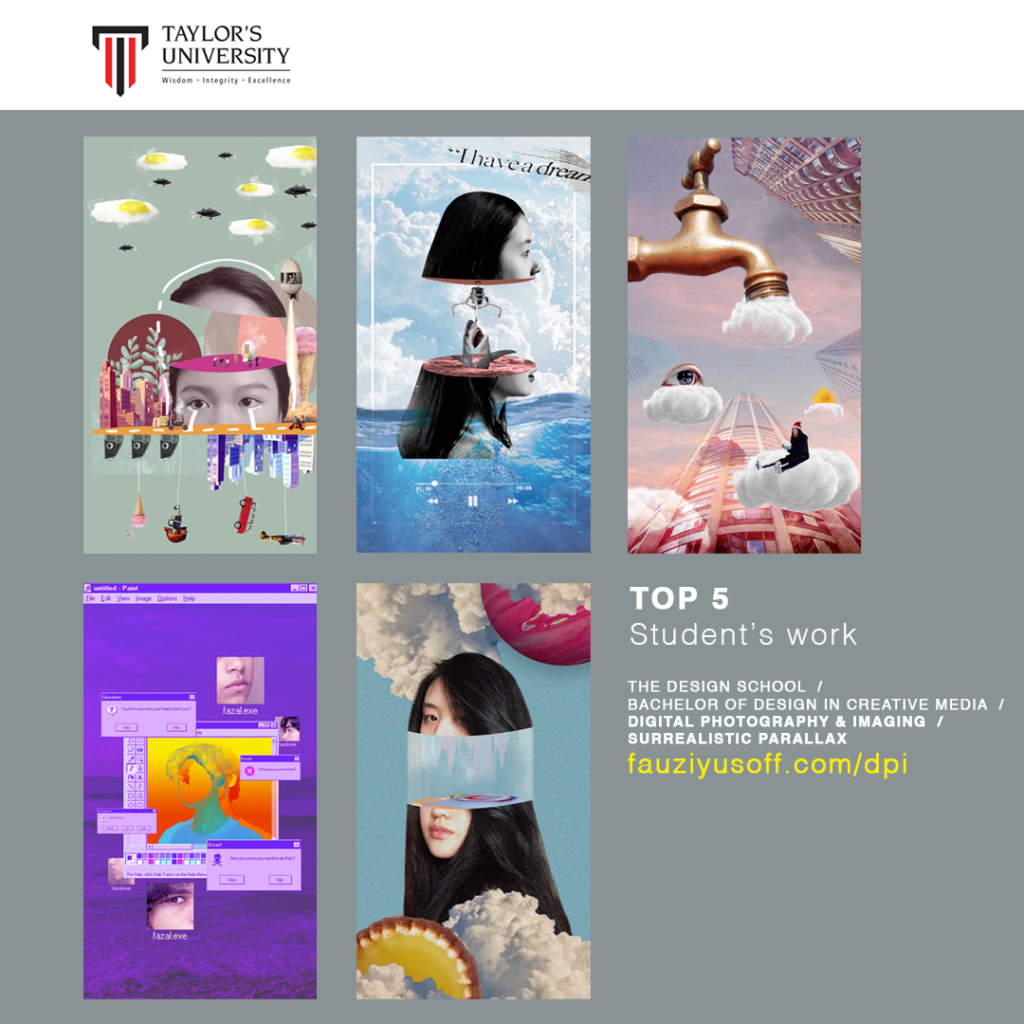 The Concept
This final project was inspired by the concept of random access memory from the subconscious brain which normally retrieve from a wonderful dream. The design process started from developing the ideas into sketches then translate it into a digital photography artwork. From a still design, it had been constructed into a keyframe layering and animated based on the Instagram's IG stories format.


The Process
Students were required to reflect their ideas into an experimental video by using Adobe Photoshop & Adobe After Effects.

On this final project, students were challenged to convert their poster design from A4 size and animate it into a vertical video format for IG stories post.
_
Consultation Week
_

Despite the constraints of working remotely from home in order to connect with students from a different time zone, I got to says in order to understand foreign's language based on their software interface is pretty challenging but yet it's an exciting thing to challenge my own memory towards the software interfaces.

It's totally a satisfaction once your students are catching up and manage to improve their skills via online learning.

Now, no more excuse. Always strive to improve oneself!
The Result
This is the Top 5 of my student's work for their final project in Digital Photography & Imaging @ Taylor's University.
Student's feedbacks
"For this part of the project, we were given the task of making a digital collage with the theme "self-titled" by Mr. Fauzi. Throughout the first 7 weeks of the semester, Mr. Fauzi has been preparing us for this project through a series of tutorials. Through those tutorials, we were taught to play around with various blending modes on Photoshop, which was fun."
– Taken from student's report


"I am grateful for the opportunity he gave us to express ourselves creatively with no boundaries. Ultimately, it was a good experience."
– Taken from student's report

"Frankly, my learning progress over this semester is quite amazing, but the way I deal with this module (Digital Photography and Imaging) fascinates me even more. As a mass communication student, I have to admit that I am not good at using Adobe Photoshop and I always feel far more frustrated. From this subject, now my problem solving and critical thinking skills have been improved while I am trying to explore, generate and test a wide range of conceptual ideas."
– Taken from student's report



The Summary
Despite the restriction of MCO, the whole learning session was done online.

As a result, online learning can be achieved successfully with a proper planning and effective strategies. Thanks to Taylor's University, Mike Choong, Martin Chong & all of my fellow students.
___
HOME > CASE STUDIES > Conceptual Design > Critical Thinking > Image Manipulation > Digital Imaging > Motion Graphics > New Media > Type in Motion